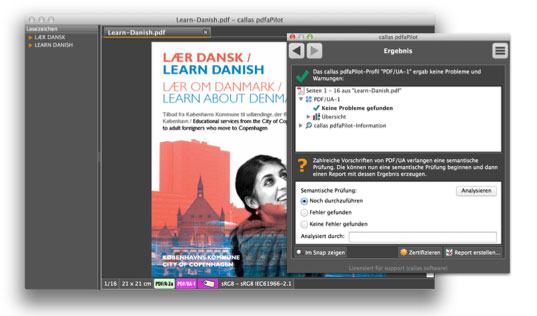 The PDF/UA validation built into version 6 of callas pdfaPilot Desktop is freely available. As a result, anyone can verify whether documents comply with the ISO standard for universally accessible tagged PDF. pdfaPilot Desktop is available on Windows and Mac OS X.
Callas software integrated pdfGoHTML into version 6 of its pdfaPilot software. pdfGoHTML displays document structure, reading order and alternative texts for images in a color-coded way:  ideal to rapidly diagnose possible problems. For the first time PDF/UA compliance checks both machine-checking and interactive checking in a tightly integrated fashion. After validation has been successful, a PDF/UA validation report can be generated.
Anyone interested in the software can download a free trial version of pdfaPilot. The trial version enables testing the full product for two weeks, but the PDF/UA validation remains available for free for an unlimited time.
UPDATE: This free PDF/UA validation is now also available in the trial version of pdfToolbox 8.1.
---
(Visited 143 times)
---